♦ Budgeram means story in Bundjalung language.
Uncle Franc Krasna
Aboriginal knowledge, is tied up in stories, dance and art. I share my verbal knowledge with Aboriginal and non-Aboriginal people through catering for school excursions and early learning centres that come to Fingal Peninsula to learn about our culture and heritage.
It is about connecting people to our history of country and heritage and also helps them understand their connection to our environment. I start with three storyboards to give the kids an idea of how there are different ways to tell a story. I talk about creation stories of 'Booning'/Fingal Head. When Europeans arrived, they called it The Caves, then Fingal Point and then Fingal Head and up until the 1960s it was known locally as the blacks' camp, but that's just one story and there are not just Aboriginal stories.
The three storyboards depict three versions of Booning (The Echidna). A columnar rock formation out off Fingal headland, it represents the dreamtime echidna.
A lot of times I tell the kids the geological history of how the area formed and then our cultural story of how it formed. The first storyboard is the geological one of Wollumbin erupting and creating the areas around us.
The second storyboard is the Aboriginal version with all the plants and animals and our people standing on the headland with their spears and that type of thing. Each storyboard has the representation of the echidna rock in it.
The third one shows the boat with Europeans arriving off the headland in 1823.
Lessons in stories
This shows them that there is more than one way to tell the story, not just Aboriginal stories. I talk about how I might tell a story one way but my mum, or an elder, might tell it another way. But at the end there is a lesson in that story. For example, the story of how the birds got their colours.
'Joogurrabah' (also known as Razorback or Tom Beatson Lookout in Tweed Heads) it is the corroboree place of the pelicans where there is a natural plateau on top. The story of that goes back in the dreamtime to when all the birds had no colours. Their feathers were all dull and grey.
The birds decided they wanted to brighten themselves up a bit so they went out into the bush and they all came back with different colours on their feathers. Rainbow lorikeets had rubbed themselves with different coloured berries and some ochres. Crow (Nargan) found a burnt tree and rubbed himself against it and was all black. The pelican and magpie, they rubbed themselves with the charcoal as well but they didn't like being all black. They found some 'dulung' which is white clay or ochre to use too. You had the swamp pheasant, he found some brown mud and all the other birds they came back different colours that they had selected.
They were all parading around showing their colours to everyone when one of the birds said why don't we have a corroboree and celebrate. The all started dancing around, all except the crows. They went over and sat under a tree and was watching everyone else dance. The pelican, with his big fat body and really short legs, on the water he slides and glides across the top of the water with grace. But on land he waddles around and he looked like he was dancing funny because of his short legs.
Pelican, heard someone laughing and giggling. He looked over and saw the crows giggling, chuckling and making fun of him because of the way he was dancing. He got angry and picked up a piece of the 'dulung' that was on the ground and threw it at the crows. It hit the tree they were under and splattered it into their eyes. That's why to this very day crows are all black and the only white is in the white of their eyes. So, after they finish dancing all the pelicans flew out to 'Jungurra' (Cook Island off Fingal Head) where they rested after their dancing.
The lesson in that story is that you don't make fun of other people and you treat them with respect, as you would like to be treated.
Understanding your environment
From the storyboards we go down the dreamtime pathway which has a whole heap of plants in it. There are different food, resource, medicine and calendar plants. For example, when the banksias (banksia integrifolia) comes out in flower and when you've got your hairy grubs around the coastal wattle (acacia sophorae) it is an indicator for the sea mullet migration.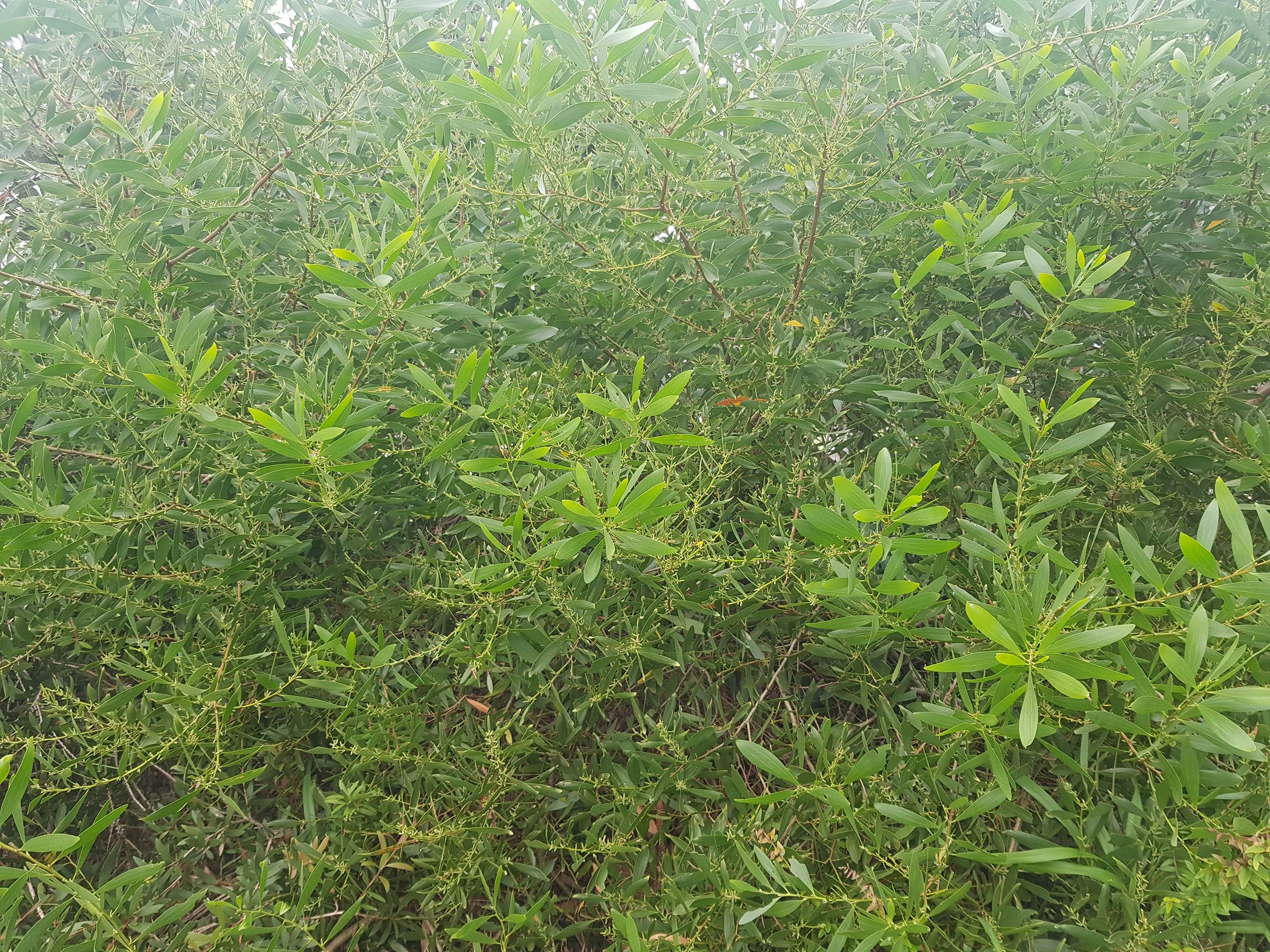 Most people don't realise that 75 per cent of our coastal vegetation and littoral rainforest had a cultural use and sometimes three or four different uses. Like the coastal hibiscus or cottonwood (Hibiscus tiliaceus) you can eat the flowers, strip the bark for making string and twine which was used to make nets for trapping animals and fish. The sap from the stripped bark was used as an antiseptic.
Most of the hunting here was done with nets, not with spears or boomerang, because of the dense vegetation we have in our region. So, nets were made mostly in coastal areas from the cottonwood tree with some nets being up to 100m long.
Once through the dreamtime pathway we end up near a midden site near the school. This was a place where people gathered and ate food. Booningbah was known as a resource and burial place. There's a lot of history here.
It is about learning and appreciating some of the cultural knowledge. That in a lot of ways is similar to a lot of the principles that Europeans should live by. With young people it is about teaching them cultural obligations, respect and maintaining relationships. This experience for all young people, is something that most of them learn from and will remember for the rest of their lives.
---
Author
Uncle Franc Krasna is a Bundjalung elder from the Minyangbal language group, who lives on country at Booning. Uncle Franc has been involved in education and has worked as a cultural educator for over 30 years.
Mr Krasna is the former Chair of the Tweed Byron Aboriginal Land Council and former Chair of the Tweed Woolumbin Aboriginal Education Consultative Group. He now conducts cultural engagement for youth and educators in conjunction with Fingal Head Public School.
---
More Storylines articles