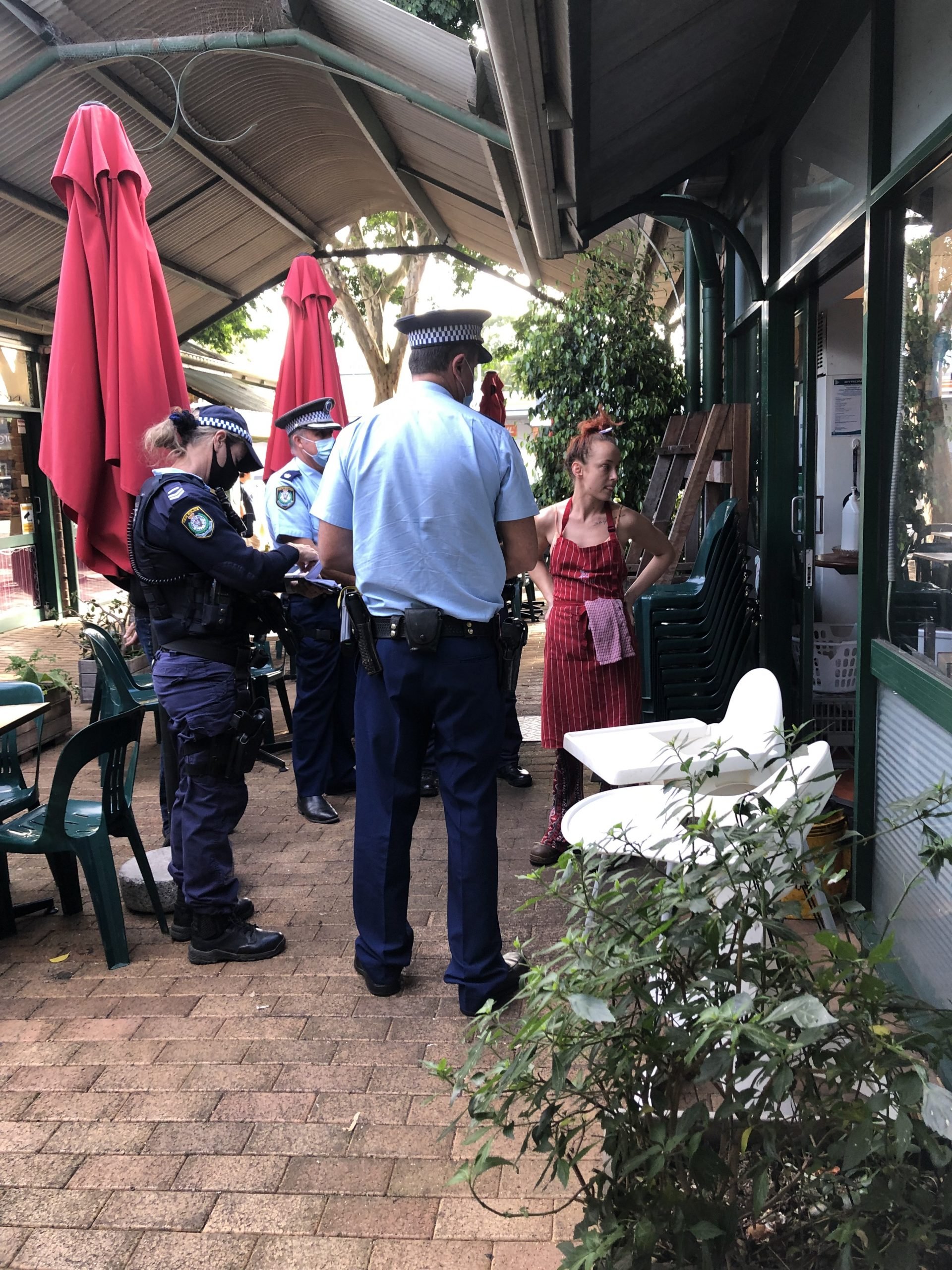 Rumours that popular Lulu's Café in Mullumbimby was ordered to close due to non-compliance with public health orders weren't true, the owner said Monday afternoon.
Byron Police Inspector Matt Kehoe told The Echo Monday morning police had visited the Dalley Street café 'a number of times' over the past week, along with health officials.
But Insp. Kehoe said while police had the power to issue fines, they couldn't order businesses to close over alleged public health order breaches – this was the responsibility of health and local government authorities.
Lulu's Café owner Shani El-Khodr spoke to The Echo Monday afternoon and confirmed the business had received about five visits from police, with more officers on-scene each time.
Police an unwelcome menu item
Ms El-Khodr said a public health official accompanied the police on their most recent visit but the business was still open and hadn't received any fines.
Insp. Kehoe had said officers were investigating complaints about staff and customers failing to wear masks but Ms El-Khodr said the only people who didn't wear masks at Lulu's were those with exemptions.
The café owner described the police as aggressive and said they'd suggested she either hire more staff who would wear masks or consider prioritising rostered hours for existing staff who did.
'One threatened to arrest a member of my staff for not providing their name,' Ms El-Khodr said.
The frequent police visits weren't helpful in terms of doing business either, happening at all times of day including lunch and with one visit lasting 45 minutes, Ms El-Khodr said.
'People walked around the corner, saw the police at the café and then left,' she said.
Call for sensitivity towards people with mask-wearing exemptions
Ms El-Khodr said staff and customers at Lulu's were all complying with the law but that some staff had been sworn at by people 'making assumptions' about why they weren't wearing a mask.
She described a 'divide and conquer' concept playing out in society when it came to mask-wearing compliance and called for greater sensitivity towards those with exemptions.
'I have a medical exemption,' Ms El-Khodr said, explaining that hers was related to trauma and it was reasonable to believe the same could be said of others'.
Pandemic pressure leads to popular café weekend closure
Insp. Kehoe confirmed nobody had to supply proof of a medical exemption but said most buildings and spaces open to the public were privately owned, meaning proprietors and duty managers had the right to refuse entry to anyone not wearing a mask.
Ms El-Khodr said while Lulu's Café had applicable public health order signage in place regarding mask-wearing and QR codes, staff wouldn't discriminate against anyone not wearing a mask and wouldn't question their exemption status.
But the café owner said the pressure on businesses during the pandemic was enough to have prompted her to start closing the long-time Mullum hub on Saturdays as well as on Sundays.