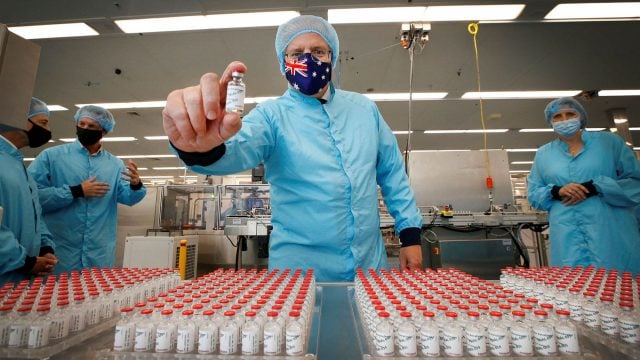 According to the End COVID For All campaign the emergence of a new coronavirus variant in Botswana underlines the need for Australia to step up its contribution to co-oridnated global efforts to prevent the virus' spread and mutation.
The End COVID For All campaign was initiated by Micah Australia, the Australian Council for International Development (ACFID) and the Australian Global Health Alliance.
It has since grown to a coalition of over 25,000 individuals and 200+ organisations made up of businesses, faith groups, unions, health bodies and more.
End COVID For All
An End COVID For All release says the variant, which will likely be named 'Nu' following a WHO expert group meeting today, contains more than 30 changes to the spike protein that is the main target of the body's immune responses. Scientists are concerned it could evade infection-blocking antibodies.
Spokesperson for the End COVID For All campaign, the Reverend Tim Costello, said authorities are still establishing a clear understanding of this variant but it should shake off any sense of complacency that we have defeated COVID-19. 'This virus has consistently reminded us that we are all biologically connected. COVID doesn't end for anyone until it ends for everyone.
COVID a constantly evolving challenge
'COVID is a constantly evolving challenge. There is no place for false comfort or triumphalism.'
After first being identified in Botswana this month the variant has also turned up in travellers to Hong Kong from South Africa. Scientists trying to understand whether it can evade immune responses triggered by vaccines and whether it causes more or less severe disease than other variants do.
Best tool is 'widespread vaccination'
Reverend Costello said the best tool available to the world right now was widespread vaccination. The Australian government needs to step up its efforts. 'The current vaccination rates in poor countries is dire and the Australian Government must do more by committing its fair share of financial contributions and through vaccine sharing.
'Vaccines reduce transmission, as well as minimising the risk of severe illness.
Reverend Costello said Australia can and must make an additional $250 million to COVAX, the international vaccine program.
'Also a further $50 million towards addressing vaccine hesitancy.'
---
Recent stories, information and updates regarding COVID-19