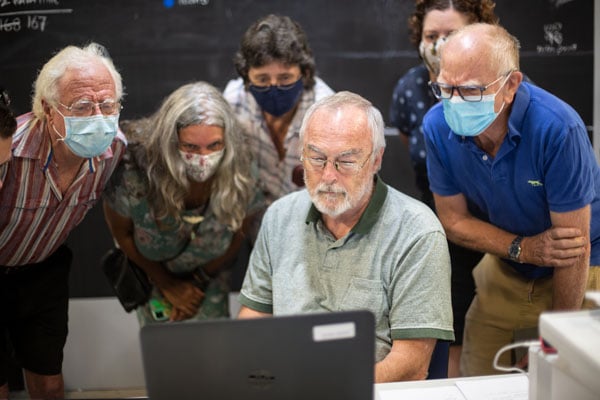 The results of the December 4 election are no longer speculation as Returning Officer John Arthur clicked the button of fate at 9am today. In a chamber of ten councillors and a mayor, Lismore City will have a majority of representatives who have never served before.
Four members of the recent Council were returned – including Labor's Darlene Cook, elected in her own right in the first count, and her fellow progressives Vanessa Ekins of the Greens and Elly Bird from Our Sustainable Future. From there, five more Krieg team candidates were elected (at between 2 and 35 preference counts), as was Big Rob, and returning for The Greens Adam Guise. These final two were elected without quota at the 42nd count, completing the new council team of ten.
After the regulation speech, Mr Arthur pressed the button on his computer and invited those gathered to watch the results appear on the screen for themselves, with as much social distancing as possible. The seconds ticked by before the list of councillors appeared.
The new Lismore City Council
The next Lismore City Council is: Cr Darlene Cook, Cr Peter Colby, Cr Vanessa Ekins, Cr Elly Bird, Cr Jeri Hall, Cr Andrew Gordon, Cr Electra Jensen, Cr Andrew Bing, Cr Big Rob and Cr Adam Guise.
The only members of the incoming cohort attending the official announcement were Councillors Bird, Cook and Ekins – the trio are all members of the last Council.
Cr Ekins said she was looking forward to getting back to council work and implementing the previous Council's strategies. 'We've worked hard on affordable housing, waste, closing the loop on waste, the handover to the Widjabul Wia-bal people and our financial sustainability.
'So, where we worked hard over the last term, putting these things in place, and really looking forward to the implementation of that.'
Cr Bird said it's good to know there is a fully elected council after five years. 'It's good that we have a fully elected body again, and we can get on with the work of making solid decisions for Lismore. I look forward to working with all of the elected councillors in the coming term.'
Cr Cook who was also the only Councillor who attended the official announcement of the new mayor, said she wanted to congratulate Steve Krieg and his team. 'They ran a very successful campaign. I look forward to working with them. I hope they will work with us and take note of the fact we have experience and we're willing to help them and mentor them into this term. I look forward to a very productive term working with them.'