The Invasive Species Council is calling on the Federal government to put their money on the table to achieve full eradication of fire ants in Australia as the latest fire ants nest was found just five-and-a-half kilometers from the NSW border at Tallebudgera. 
Currently, there is a $49M shortfall in funding left by the Federal government along with Victoria and WA said Invasive Species Council spokesperson Reece Pianta following their release of secret government documents earlier this month. 
Both Queensland and NSW have put the money on the table for the program over the next four years allocating $61M and $95M respectively. However, while the Federal government and the Victorian and WA have committed in principle to the fire ant eradication program they are yet to commit the money. 
'They are risking the spread of the super pest across Australia,' Mr Pianta told The Echo. 
'The next 12 months are critical. With the dry summer coming it is an excellent opportunity to be baiting and spraying nests, conducting surveillance a controlling the fire ants. They are more active in warm weather and if we don't act now we will be facing a surge in fire ant numbers.'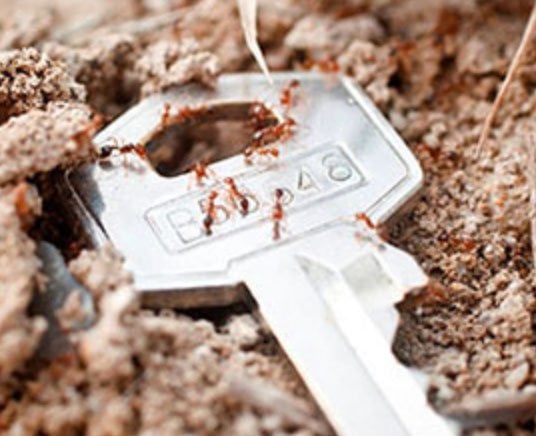 Community vigilance
Tweed Shire Council (TSC) passed a motion at the last council meeting (17 August) 'requesting an increase in funding to NSW Department of Primary Industries to fund… creating check points in the border region for all tippers, trailers, etc bringing material across the border that could contain fire ants.' 
Councillors also noted the 'establishment of a cross-border task force… that could move to enforcement if necessary'.
Tweed Mayor Chris Cherry said that 'increased surveillance of fire ants is critical here in the Tweed, where thousands of residents cross the border daily as part of our everyday life. We have a thriving farming community and a strong tourism industry and it's imperative we all play our part to ensure we keep this invasive pest out of the region.
'While our staff at Council are doing everything we can to check for indicators of fire ant activity on roadsides, parks, sports fields, and other Council facilities, it is the responsibility of all of us to remain vigilant. Councils and government authorities can't do it alone without the help of the community.
'It is up to every one of us to know what fire ant nests look like and if they detect a suspect nest, contact authorities immediately.'
Identification
Fire ants are between 2-6mm long and can be found in a variety of sizes in the nest. They are a dark reddish-brown in colour with a darker brown-black abdomen. The waist section has two segments and they display aggressive behaviour. If the nest is disturbed hundreds of ants will come out of the nest trying to sting over and over.
Distinctive nests are a good way to identify the fire ant. The nest can be mounds up to 40cm high or flattish patches of soil with no obvious entrance holes. The nests are more likely to be seen in sunny open areas such as lawns, school yards, parks, roadsides and golf courses. However, they can occasionally be found in rotten logs, along pavers, and building walls.
Swarming ants
Fire ants will swarm a person or animal stinging over and over, causing the sensation of being on fire. There is both a risk of the stings becoming infected as well as a risk of, in rare cases, leading to fatal allergic reactions.
To test if a nest is a fire ant nest 'stand well back and gently prod the edge of the nest with a stick,' say the Department of Primary Industry (DPI). If you think you have identified a fire ant nest people are urged not to disturb the nest but to call the NSW DPI immediately on 1800 680 244 to report the incident.
Detection dog
As part of measures to identify fire ant nests a detection dog called Jet has been trained and is being used in the eradication process. Tweed Mayor Cherry met Jet at Jack Evans Boat Harbour at Tweed Heads last week when dog handler Craig Faulkner and Jet looked for fire ant nests at the lookout. NSW Minister for Agriculture Tara Moriarty, NSW DPI Chief Invasive Species Officer Scott Charlton and NSW Assistant Police Commissioner Stephen Hegarty were also present to discuss the cross-border taskforce with biosecurity experts from the NSW Department of Primary Industries, Queensland's Department of Agriculture and Fisheries, the National Fire Ant Eradication Program and NSW Police. 
$2.2M fines
The detection of fire ants at Tallebudgera triggered the NSW Biosecurity (Invasive Ant Carriers) Control Order 2023, which puts restrictions on the movement of materials that can bring the ant into NSW.
Under the Control Order, materials such as mulch, soil, hay, straw, sand, gravel, turf, potted plants and earthmoving and agricultural machinery cannot be moved from within a 5 km radius of the detection site without inspection and certification by Queensland authorities.
Breaches of the Control Order could lead to fines of up to $1.1 million, with penalties of up to $2.2 million for companies.
The enhanced taskforce would ensure a coordinated approach between both NSW and Queensland authorities. Site inspections will be conducted on both sides of the border, harnessing the capabilities of existing fixed camera systems normally used to conduct livestock movement surveillance at key road crossings between the two states.
Residents are urged to visit the NSW Government website to check entry requirements for anyone moving such products into NSW from any fire ant biosecurity zone in Queensland.
A map showing all fire ant detection sites in Queensland over the past 12 months is published on the National Fire Ant Eradication Program website. The Queensland Government also has rules that apply to people and businesses moving materials that can carry fire ants.