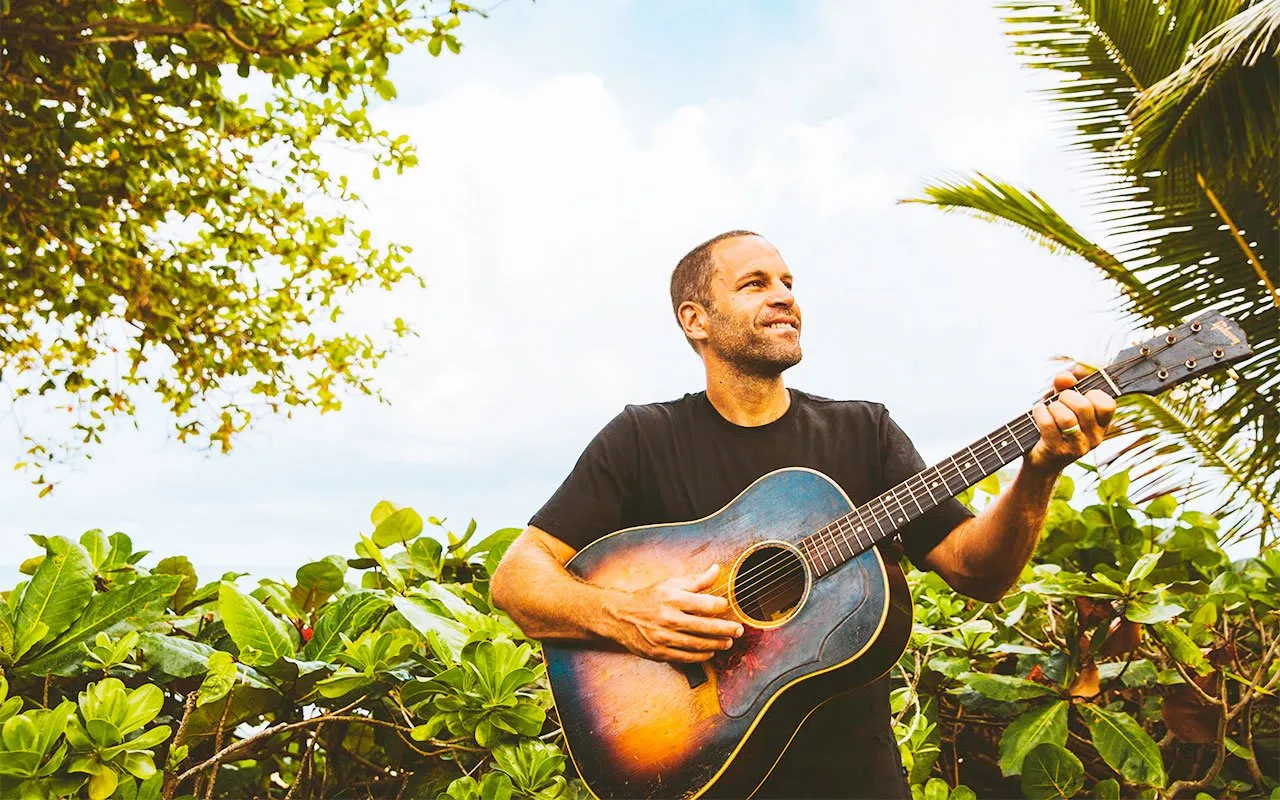 Ahead of his Bluesfest 2024 show, last week Seven spoke to Jack Johnson from his home in Hawaii. For a generous and philanthropic man, who cares for the planet and its people, who has talent, intelligence and looks, who is happily married to his college sweetheart, who has a lovely family with three kids, who gets to gig across the globe and surf some of the best beaches – living the dream – we really only had one big question:
How are you going being the father of teenagers?
Ha ha – I think like everybody else. Some days it feels like I'm doing great, and other days I'm wondering 'How do you do this? This is crazy!' It's a different time. It's a transition.
You're heading down to Australia again. Are you bringing the family with you? 
Yeah. We have so many friends and family we really like to visit with when we're there.
Is Bluesfest a great festival for you? 
Yes, it kind of is for a few reasons. It's kind of the quintessential festival to me. For one thing it was the very first time that I got to play in front of an audience that big. I had been on tour with Ben Harper. I think he put the good word in for me, and there must have been somebody else who pulled out at the last minute and somehow I got a slot that was better than I should have – I got to play right before Ben and the whole crowd was already there. 
I still get goosebumps thinking about that performance because, being in a surf community, I think they were just really excited that it was one of their own getting the chance to be up on a stage. I felt that energy. You know, the day before and the day after I was seeing everybody out in the water when I was going for surf. I just felt right at home with everybody.
Also, besides just being a personal memory for me, it is really a very collaborative festival. I find there's some festivals where everybody's kind of isolated in their own spots, and you barely see people, you kind of come and go. And then there's other festivals they set it up in a way that people run into each other and start coming up with ideas about what you can do on stage – at this one, backstage is real collaborative, so that ends up leading to a lot of sit-ins, which is always my favourite. 
I always like to look who's on the bill way ahead of time and start thinking about what songs we could do together and that kind of thing.
It's not just me, it's everybody in my band because we do a lot of shows together and even though every night does feel different for us, it's the same four guys playing the songs. So whenever we get a chance to have a musician that we all look up to come and sit in with us, we love to take that. Everybody in the band is pretty proactive. Like sometimes the piano player, ahead of time will say 'hey, I saw we get to be on the same bill with so-and-so – I know that they've done this song before, we should learn the chords so that we can show up ready.' And so we actually do think ahead and try to figure out songs so that we can kind of make it easy, because we really like to open our stage up and have other people sit in.
What music will you have for fans next Easter? Are you going through your catalogue? 
Yeah, it'll be mostly the catalogue – a few songs off the new record, probably lots of different covers. Sometimes we'll throw in a song by one of the other artists – some songs by other people who are on the bill. But in general, we kind of like to challenge ourselves to play old songs we haven't played in a while plus a couple of new songs. We definitely do try to represent the whole catalogue and try to hit songs off every record if we can. As a band, we do kind of have discussions about challenging ourselves to play a song we haven't played for a few years. It's fun to do.
I want to talk about your foundations. You do a lot of work for other people and for other issues. You and Kim have created two foundations. Do you find that you get the chance to do much hands-on with those?
We get to be quite active with them. One of them is actually here in Hawaii, where we live and that's the one we're working on every day. And then the second foundation, the Johnson Ohana Foundation is a lot to do with grant-giving to other groups that we work with when we're on tour, so money from the shows can go into groups as we're on the road. 
This morning I was down at our farm – we have a learning farm for kids – and I go down there most days to check in and do some work, and it's just a lot of fun, there's always something really great happening there.
In the last four years, we've done a lot of the hard work of developing it to the point where we can now have field trips [visit us]. So now when I go down there, there's always a volunteer group or a third-grade class or something around. It's really fun to hear the kids laughing on the farm and just to see all the hard work of our whole staff. It's has finally gotten to this point where we can host kids and do the fun part.
Do you feel that there's a sense of responsibility or a sense of an obligation to try and push the causes that you believe in?
Yeah, I do. I mean, I think it's a hard one and I guess I don't expect it from every artist – I've always just naturally felt it myself, a responsibility to use this for something bigger than myself. And I think a big part of that is my wife, we've been together since we were 18-years-old. She's my manager too. She always used to work the merchandise booth, or the door, when we were playing clubs. She's been along for the whole ride. So I think it's a big part of her job, she's always felt like taking that spotlight and not letting the light shine only on me, but shining it on things more important and I appreciate that. It's been nice to have her doing that. I wouldn't have been able to start these organisations we were just talking about without the partnership that we have. It's really us together doing it.
But, I've always felt the responsibility – I think, partly because I've felt like it was a lucky thing that any of this happened. I kind of would have to pinch myself and be like, 'do I get to keep doing this?' I get to keep putting out albums. It's so much fun – so we like to do it. You know, it's something important to us.
It sounds like you're living the dream – are you?
I feel good. With some of this, the nonprofit organisations we've done, we've definitely had times when we think to ourselves, 'what have we done?' We could be just cruising, but we ended up working a lot. And I ended up appreciating all that work, though. I mean, it's kind of made this whole thing feel like a career worth having – and it's an easy way to explain to my kids what we do for work. You know, we go around and we gather people and we raise funds, and we're able to kind of support every community that we play in. Again, it was just the partnership we had and the way it naturally occurred for us. But it's a lot of work. And we've bitten off more work than we needed to. But we enjoy it.
Jack, what, as a person inspires you?
ALL OF IT! And that's not just an easy out, you know. Some songs, they're like deeper cuts on the album, or like, I write at three o'clock in the morning sometimes, and they're the things that are just looming back in my mind, and then they creep out at some time. I don't always control what the songs are going to be about. And then there's other times it is just the opposite of a dark thought, and instead, it's just the lightest thought in a world and me wanting to make my wife laugh, you know? Some songs to me are just, that's the goal of the song is to make people laugh and feel good.
So a song can kind of come from anywhere, there's a whole spectrum. But having time to reflect on it definitely helps a lot, and being out in nature, and away from the phones and away from all that kind of stuff. I do this (interviews. etc.) at certain times, but I need to be away from it a lot to be able to kind of reflect enough to dig those things out and to make the songs.
Are you having enough fun?
Yes. I do think so. I felt, like you'd mentioned earlier, I think you have to feel good about what you're putting into the world if you're lucky enough to get to make art for a living. You have to have confidence in what you're doing, but you also have to realise that it takes a lot of luck. I don't mean to say the luck part is some kind of false humility or anything, it's like you have to have something you believe in, but then, I look around, and I have so many friends that are amazingly talented and I just love their work so much, and sometimes they just didn't have those few lucky things lined up to let it all happen – so I'm very aware of all the little lucky things that lined up in my life to make it where I get to continue to do it and to be allowed time to create things. So I think that makes me feel like I do get to be happy. Am I having enough fun? I'm having enough fun. Every time I'm in my studio making songs. I'm very aware that it's a blessing to get to do this.
You can see Jack Johnson live on Good Friday at Bluesfest 2024: www.bluesfest.com.au.