The Echo caught up with Ballina volunteer Phil Causley after he won the 2023 Marine Rescue NSW agency award, part of the 2023 Rotary District of NSW Emergency Services Community Awards, held in Sydney recently.
Mr Causley said there had been a lot of interest since he'd won, with all four finalists in his category coming from outside the metropolitan area this year, including himself and Jonathan Wilcock from Brunswick Heads, and the winner in the ambulance category, who came from Goonellabah.
Sounds like you get plenty of practice rescuing people around here! So how did you first get involved with Marine Rescue?  'I'd been a bit of a stay at home dad, after a few years of solid work, but I needed some adult interaction,' Mr Causley explained.
'I've had a history of volunteering since I was 16. So because I've always been around the water with sailing from when I was eight, and working on trawlers in the school holidays down at Yamba, and enjoyed fishing and all that, I made the change from SES in earlier years to Marine Rescue.'
Beyond his volunteering, Mr Causley has also had a scaffolding business, which he sold to spend more time with his kids, and works as a Coles delivery driver.
Can you tell us about your roles at Marine Rescue?  'Yeah, I started off as a trainee to become a crew-member and then became leading crew. Then I got my training and assessing qualifications, so I started doing a lot of training. From there for three years I was the deputy unit commander in Ballina, and currently I'm coxswain for the vessel.
'As coxswain, basically, you're in charge, and you're the one that's responsible. So if any mishap happens, you're the one that gets questioned! But yeah, we've got a really good team here.'
Phil Causley says the Ballina unit has 80 members, mostly working in the radio base, with 20 people in the boat base crew.
After some controversies in the past, Marine Rescue Ballina is now in the process of merging with the Ballina surf jet boat service to provide a comprehensive marine emergency service for the region.
Although they mostly operate closer to shore, they can travel as far as 30 nautical miles out to sea for rescues, and cover territory to the north and south of Ballina as well.
Mayday
Can you tell us about some of the rescues that stick in your mind?  'We had one mayday, in the early hours in June 2020. A vessel sunk out to sea and we had two people in the water. It was quite a quite a hectic bar crossing at that stage – we had three to four metre waves breaking over the bar.
'Every time there's a person in the water, all agencies get activated. So on that event, we had the Westpac helicopter, which was able to home in on the EPIRB [Emergency Radio Beacon] and basically provide a guiding light for us to get the people out of the water and get them back to the paramedics who were waiting at Fawcett Street Wharf.'
By necessity, Phil Causley has become expert at crossing the Ballina Bar, which is notoriously dangerous. He says training is all-important to maintain safety. 'Yes, we try not to have too many scares, but everything that we do, we train for, yes, and then obviously the more we train, the more comfortable we are with the ever changing risk that's on that bar.'
He says searches are a big part of the job, and they don't always end well. 'There's been a few high profile, missing person searches, but also more run of the mill things, either battery or electronic issues, either in the river or out at sea,' he said.
'If it's a battery issue, we try and get them to jump start and then we can escort them back into the river, or if we've got to tow them we obviously have protocols around that.'
Other emergencies
The floods were also a busy period for Mr Causley. He and other volunteers assisted in Lismore and at drop-off centres, supplying vital goods.
'Since that flood, there's been a Memorandum of Understanding where all agencies will work under one umbrella,' he said.
In recent times Mr Causley has been deployed together with other emergency services to assist communities in need as far west as Walgett and Collerenabri, and further south at Parkes, Condobolin and Moulamein.
With more emergencies across the state as the climate emergency bites, it's a big time commitment for Phil Causley and his fellow volunteers, as well as a stressful role at times.
He says Marine Rescue are fortunate to have a really good mental health support system, founded and maintained by the RFS. 'We have access to their counseling services, which can be very helpful.'
Like all emergency workers, while adrenaline can take over in the moment of crisis, trauma can catch up with people later. 'Yeah, you focus at the task at hand, but sometimes days or weeks later, you go, how did that happen?'
So how did you feel when you discovered you'd won the RESCA Award?  'Well, as far as I'm concerned, I don't do anything above and beyond everyone else that is in the organisation. As I said, it's a really good team. And everyone that was there deserved to be the winner. So this took a bit of time – it was a bit of a shock to process it.'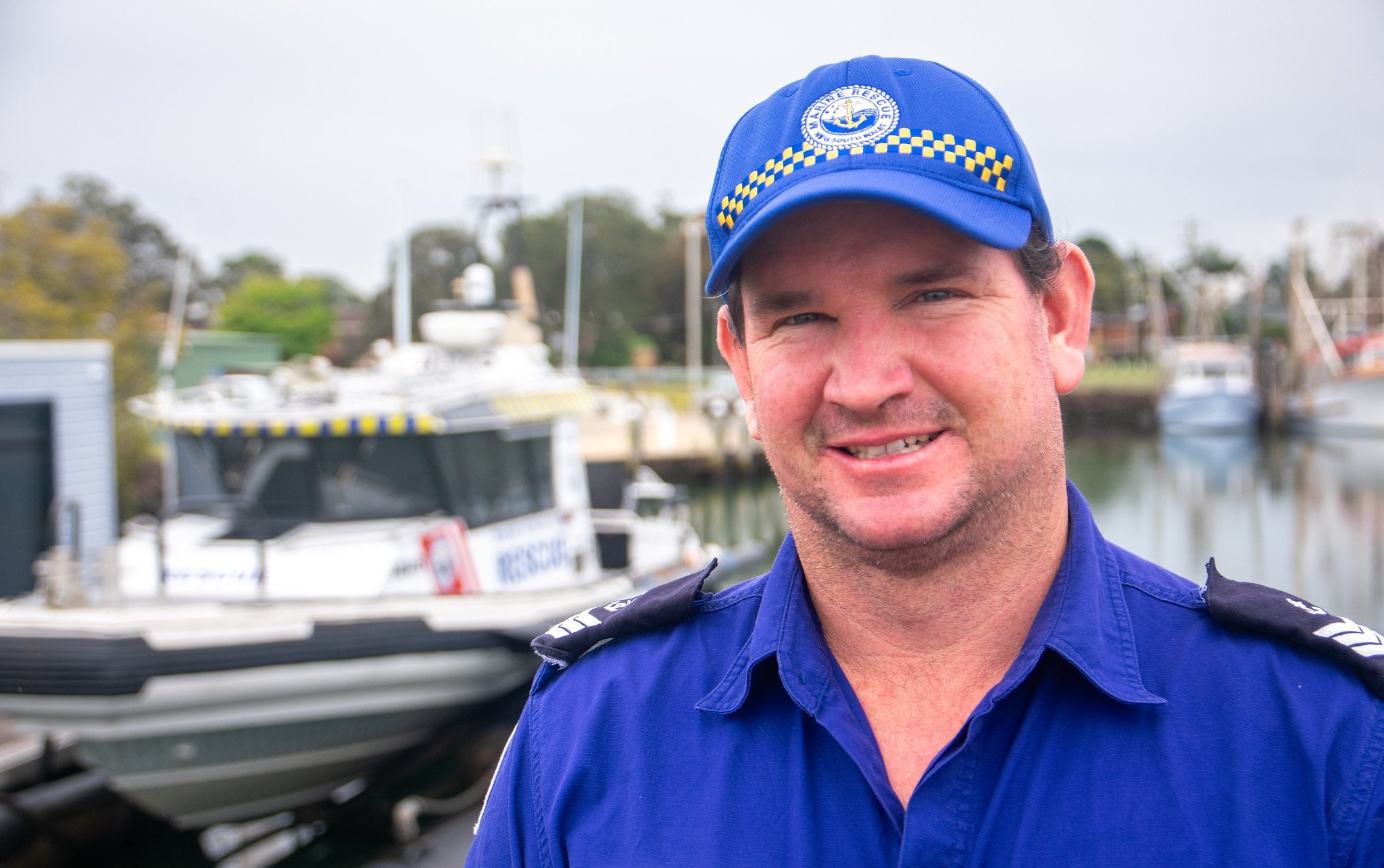 Doors wide open
Like all the hardworking volunteer-based organisations in and around Ballina, Marine Rescue NSW is constantly looking for new members.
So what sort of experience do people need to be useful?  'None!' said Phil Causley. 'Basically, just an interest in doing something for the community, that's all that's needed. Obviously, a lot of our members do have a boating background, and some guys have commercial operations too, but we do all the training.
'We've got a few ex-Navy members that do a lot of the radio work. Even for the people that are not as young and agile as they used to be, there's plenty to do.
'The biggest thing that we've had over the last few years is getting inter-agency training and cooperation happening, which should have happened years ago, but it's going through quite nicely now. So that's really good,' he said.
If people want to help Marine Rescue Ballina help the local community, they are a regular presence outside Bunnings doing sausage sizzles, and also run a monthly breakfast at the radio tower on the North Wall on the first Sunday of every month. 'If anyone sees us out and about, we're always happy to tell stories!' said Phil Causley.
Prospective volunteers can get in touch via the Marine Rescue NSW Ballina Facebook page, or via the Marine Rescue NSW web page, where you can support financially or become a member.